We are a congregation of Christians, sound in the teaching of the Gospel, upright in character, sacrificial in spirit, and friendly in nature.
Christ charged his disciples with the "Great Commission" to go into all the world and preach the gospel to every creature. We believe it is our mission to reach out to the Moore County communities of Aberdeen, Cameron, Carthage, Pinehurst, Robbins, Southern Pines, Seven Lakes, Vass, West End, and the surrounding communities.
New Testament Christianity and Worship
It is our purpose to practice Christianity as it was during the first century. The inspired word of God is the only authority and standard by which we live and worship.
You will notice three distinct facts about our worship services.
Our worship is "in spirit and truth" – John 4:23-24
Our worship is "for edification" – 1 Cor. 14:26
Our worship is to be "decently and in order" –
1 Cor. 14:40
Christianity is not merely a religion, it is a lifestyle. In order to live the life that God designed, an individual must be willing to forsake sin and all worldly pleasures and cares. It is because of sin that Jesus came down from heaven and gave his life on the cross.
Our Minister & History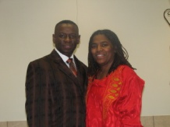 Early beginnings for Carthage Church of Christ began in July 2004. On October 17, 2004 the congregation had its first service with assistance from several congregations of the Church of Christ throughout the brotherhood. The first service had about 28 in attendance. The congregation has continued to grow spiritually and in numbers, since inception and strives to remain focus to its ultimate goal of sharing Christ to our community. Through the grace of God, ground broke in June 2009 for a new facility with a seating capacity of over 200, seven classrooms, fully furnished kitchen and fellowship hall, library, sound room, office. Randy Chambers is the minister of the congregation; he is a 2004 graduate of the Memphis School of Preaching.